Since January 2021, INN-PRESSME partners have been upgrading existing and new public and private Pilot Lines, focusing on the formulation and processing of novel nano-enabled and bio-based materials by additive manufacturing, dispersion or extrusion coating lines.
Through the INN-PRESSME Open Innovation Test Bed, companies and SMEs have the opportunity to get access to facilities, capabilities and services required for the development, testing and upscaling of nanotechnology and advanced materials in industrial environments. INN-PRESSME also provides services on characterisation, end of life testing, sustainability assessment and business support. 
These updates on the experimental work are illustrating how INN-PRESSME is developing sustainable bio-based products for the packaging, energy, transport and consumer goods sectors:
Pilot Line: Efficient industrial use of Cellulose NanoFibril
VTT's Nanocellulose pilot had been integrated with Biomass Centre at VTT Bioruukki. The re-location of VTT's nanocellulose pilot together with cellulosic film forming lines is supporting the effective development and scale-up of novel biomass processing technologies and concepts.
The new pilot facility is equipped with digital data storing and management application. The nanocellulose facilities allow testing of samples from a few dozen grams upwards. 
Pilot Line: Increasing the available amount of cellulose nano crystals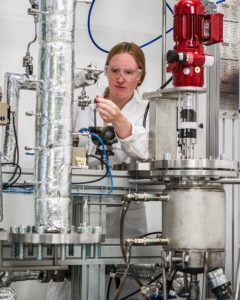 RISE Processum have been working continuously with upgrades, installing and testing new equipment to improve   the capacity of the pilot line for production of crystalline nano cellulose: improving the heating of the reactor as  well as the separation and homogenization steps of the process.
RISE is performing batch-runs in the pilot, both to  verify the upgrades and to produce material. The improvements so far have shortened the time for one batch and increased the yield.
Pilot Line: Production of biopolyester from marine bacteria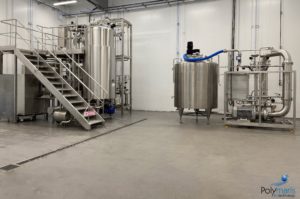 Polymaris biotechnology continues to expand to pilot scale, while removing technological barriers.
The company has equipped itself with a new fermentation unit so that it can develop its PHA (polyhydroxyalcanoate) production for the project. 
Pilot Line: Processing & modification of natural micro fibres

IWNiRZ has built the Pilot Line targeted production of modified flax/hemp microfibers. The developed lab scale technologies are dedicated to long fibres, (e.g. degumming with use of Citrate solution and silanization aiming improvement of fibre adhesion to polymer) are adapted to semi-commercial scale of production. The pilot line consists of two other sections: drying and grinding to fragmentise the fibres. The preliminary tests showed that the average fibre diameters are in range 20-40µm and their length is 250-400 µm depending on applied method.   
Pilot Line: Production of novel cellulose-based bio-inks and slurries
CIDETEC Surface Engineering's pilot line for ink formulation has been upgraded with the acquisition of a large-volume (15 L) vacuum dissolver for high-viscosity blends equipped with in-line control sensor systems for real-time measurement of pH and viscosity of the formulations during the blending process.
Very homogeneous cellulose-based water formulations (5-10 L) have been prepared with the vacuum dissolver under different process conditions (rotating speed, power, torque, temperature, vacuum pressure), reaching the target high viscosity values suitable for screen-printing. 
Pilot Line: Scaling of graphene and carbon-based bio-nanomaterials
This Pilot Line is led by Gnanomat. To improve the dispersion process of the carbon basis, a high shear mixer has been added to the system, reducing mixing times by 90%. A new filtration system is made up of a Büchner-type Nutsche filter that allows filtration by means of a vacuum system, increasing the recovery performance of the material obtained, compared with the previous press-type filter. The 50 L reactor has been built in glass instead of PVRF, which allows viewing the processes that take place inside. 
Pilot Line: Data mining as the basis for efficient production of PLAX copolymers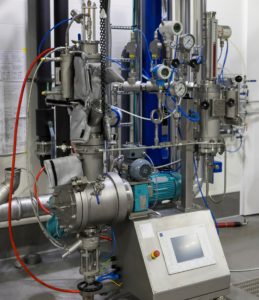 VTT's PLAX pilot line located in VTT Bioruukki Pilot Centre has upgrades for on-line measurements and data collection to support production and process as well as analysing the results. The main upgrades from the beginning of the project are related to Lödige 10L reactor for which the data upgrade was installed and ready in use. The oxygen meter for on-line oxygen measurements has been tested. For in-situ viscosity measurements, the viscosity meter installation was planned and quoted. 
Pilot Line: Formulation of bio-based compounds for nano-composites
Pourdr'Innov 2.0 pilot line located at CEA allows to formulate biobased polymer materials for injection molding or additive manufacturing with the possibility to develop nano-composites materials. It has been upgraded with the procurement of a cast film extrusion to produce nano-enabled biobased 2D substrates. 
In parallel the nano-security/safety management is improved by integrating a fume cupboard type protection system directly on the equipment (individual and collective protection). Users will be protected when introducing nanoparticles and cleaning of the internal mixer.
Pilot Line: Compounding and processing of nano-enabled bio-materials
The Extensional Flow Mixer METEOR® (patented by IPC) is used to develop new formulations with an efficient dispersion of additives while reducing the overheating, and so the thermal degradation of sensitive material, like PLA/PHA. An inline capillary rheometer will be implemented in the line to be able to optimize compounding parameters.
Additionally, a filament die for production of 3D printing filament with a flexible cooling system with water or air for water-sensitive materials will be received in March 2022.
Pilot Line: Quality improvement of biobased coatings and nanoparticle synthesis
The objective of this pilot line led by Fraunhofer ISC is to develop a complete value chain for bio-based lacquer coatings.
For an improved adjustment of the coating properties, the lacquer production was upgraded with an automatic temperature control. In addition, the 100 L reactor for semi-automatic lacquer production was equipped with a dosing unit that enables controlled addition of the reactants into the reactor.
The upgrades enable optimised synthesis of the coatings and thus faster adaptation to different substrates. 
Pilot Line: Establishing of a development environment for bio-based particle foams
Fraunhofer ICT upgrades its process chain for development of nano-enabled biobased particle foams and products with different elements to assure constant quality assessment, monitoring and data management of the processes and materials as well as the possibility to functionalise such materials. 
Therefore, a coating unit for foamed beads has been installed. The first steps for an instalment of a databased parameter and process measurement device have been made and the first processes along the whole process chain will be integrated soon. 
Pilot Line: Production of electrodes for the optimisation of the production of bio-based materials
CIDETEC Energy storage's pilot line for electrode coating has been recently upgraded with a laser alignment controller and an in-line thickness controller.
These upgrades allow, first, the alignment of the slurry in the current collector while the coating process, ensuring the alignment between the two sides of the coated electrodes, and second, the monitoring of the electrode homogeneity by the in-line measure of the electrode thickness. With these upgrades, the optimisation of the electrode coating process has been achieved, significantly minimising electrode scrap. 
Pilot Line: Large surface S2S printing
The main objective is to improve the performance of a vision measuring system. The first part of the upgrade has been focusing of the kind of modifications (both hardware and software) that have to be performed to get an accurate measurement of the dilatation/shrinkage of the substrate on a 320x380mm² surface. Two options have been investigated and finally the option including large software modifications, lowering of the resolution to 8µm and minor hardware modifications has been chosen. First trials at the supplier's facilities have been performed and the implementation at CEA's facilities have been done in February. 
Pilot Line: Process and data optimisation in the surface treatment concept
VTT´s surface treatment pilot line "SutCo" was relocated in VTT Bioruukki Pilot Centre next to nanocellulose and process chemistry pilots. Due to more spacious plant, a cooling roll will be added for barrier trials. Improved tools for using relevant on-line data for controlling, faster analysis and reporting will support enhanced customer experience. The surface treatment pilot line is designed for applying dispersion coatings and producing nanocellulose films with possibility for modifications depending on customer needs. 
Pilot Line: Films nano-texturing by multi nano layering coextrusion and extrusion calendaring
MULTINANO pilot line is based on multinano-layering for the micro and nano co-extrusion of films with high gas barrier and optical properties.
The co-extrusion line consists of three extruders (a fourth can possibly be added) and the configured line is modular. A single of thousands of layers with nano-range thicknesses are obtained through a series of Layer Multiplying Elements. The width of the cast films will be doubled in March thanks to a new flat die with a deckling system to have more flexibility for the film and width. To further improve the gas barrier properties of the films bi-axial stretching could be performed. 
Pilot Line: Increasing efficiency in processing of nano-enabled biobased materials by additive manufacturing technologies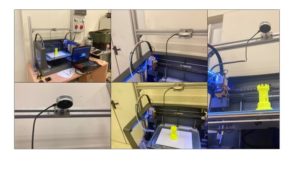 Based on several meetings with end users, the requirements and materials were defined so the right software and hardware were acquired by AITIIP Technological Centre. Software development has been carried out and it is still going, and the camera has been set up. Trials with commercial materials, other rigid materials (different types of PAs) and also elastomeric materials (EVA, TPU, TPE) have been performed, and the bio-based materials have been purchased. 
(Photo: Camera set up on 3D printer. Testing using commercial material)